Dog Days of Summer Giveaway
Humans have been complaining about summer heat for thousands of years. In fact, the phrase "dog days of summer" originated in ancient Rome. Romans called the period from the first week of July to the second week of August Caniculares dies or days of the dogs. They attributed the extra heat to the Sirius, a brilliant, blue-white star. Enter HERE to win a special prize pack  inspired by the dog days of summer which includes a trio of dog-themed goodies, plus a digital copy of LAST CHANCE SUMMER. Enter to win this hot giveaway today!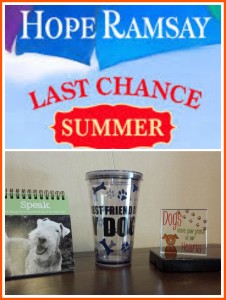 Last Chance Watermelon Festival Giveaway
August in Last Chance, South Carolina, means it is time for the annual Watermelon Festival. Stock car races, pie judging contests, 4-H fairs, carnival rides and games. No matter what type of festival your small town hosts, you know there is plenty of fun to be had. Enter to win a watermelon-themed prize package from author Hope Ramsay. Goodies include a 22 oz., 2-wick, Juicy Watermelon scented Yankee Candle, plus author swag and an autographed book. It's a sweet slice of summer goodness! Entries accepted through August 31.