Posted on October 25, 2013
It's almost November, which means it's time for another charity knit along to benefit the Hatbox Foundation, a non-profit organization that collects hand-made hats for cancer patients undergoing chemo therapy.  Last August,  a group of Last Chance knitters produced 25 hand-made hats for this wonderful charity.  I'm aiming for double that number, which is the maximum number that any group can send at one time.
My knit-along will start next week, on November 1.  I'll be knitting nothing but hats for the entire month of November.  In August, I made six hats.  I'm aiming for seven this time.  I have a lot of baby Ull yarn in a variety of colors, and I plan to knit up a bunch of hats with a band of Faire Isle stranded color work.  Like most knitters I still have a huge yarn stash that I need to get rid of.
I'll be blogging here on a weekly basis on my progress, and I invite you all to come and share yours, as well.   On November 1, I'll be posting instructions on how to knit a simple hat for beginners who have only knit scarves or blankets or other flat projects.  But in the meantime, here are some links to charity knitting patterns, so you can start planning your projects now:
>>> Knitting Daily has a free download with five fun patterns for charity projects.
>>> The Hatbox Foundation has a bunch of links to Chemo Cap patterns.

>>> Here's my own pattern for a simple ribbed cap.
>>> I'm not much of a crocheter, but crocheted hats are welcome.  And here's a link to a bunch of very cool Chemo Cap crochet patterns and some instructional videos.
This knit along is to benefit cancer patients and to have fun as knitters and crocheters.  However, I am adding a little inducement.  If you send me a hat, you'll get a Last Chance Knit & Stitch tape measure, which is so handy to have in your knitting or sewing basket.  I'll also be picking five participants to receive autographed copies of the Last Chance Knit & Stitch, my new release that will be in stores on November 19, 2013.  I'll be announcing the winners of the book giveaway on December 6, 2013.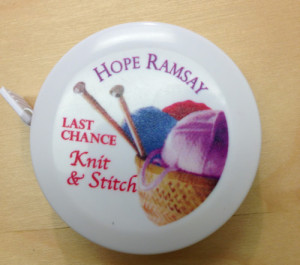 If you have a favorite pattern please share.  You can also share photos of your yarn stash!
Leave a Reply