Posted on 09/11/14
I toss around the word "hero" on a daily basis.  I use that word to refer to the male protagonists of my books.  But sometimes it's important to step back and think about the real heroes — those people who made the ultimate sacrifice in order to save someone else.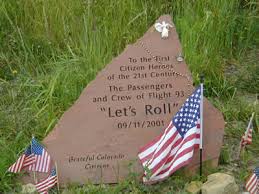 On this day, I always take a moment to say a prayer of remembrance for the crew and passengers on flight 93, who may well have saved my life 13 years ago. On September 11, 2001, I had a ten o'clock appointment on Capitol Hill.  That morning at 9:30 I was standing at what was supposed to be ground zero for the fourth and final hijacked plane.
I cannot imagine what would have happened if flight 93 had reached its target — the U.S. Capitol Building.  I might have been hurt or killed.  I certainly would have seen terrible things.  And I know the two-hundred year old Capitol Building with all its history and artwork would have been utterly demolished. My life would have changed in profound ways, assuming I survived.
But the heroes on 93, who gave their lives, made sure none of that happened.
I think that hallowed ground in Shankesville, PA is often overlooked, when we remember this day.  But never by me.
So, please, say a prayer for the heroes today.  And never forget those who selflessly gave the last full measure to protect our capitol.
Momma was a Pistol Packing Southern Belle
Posted on 08/8/14
Well, sort of.
Mom was born in Hampton County, South Carolina almost 100 years ago. Her daddy was an engineer and she was the youngest of six children that survived infancy. She had lots of interesting stories to tell about living way out in the boons. I admit that some of her stories have ended up in my books. Mom's life growing up in the deep south always seemed way more interesting than mine. Which was sort of funny, since I grew up just miles away from the New York City line.
I was told that Mom once had a thick southern drawl, but like the Georgia Good Ol' Boy I married, she lost it living up in Yankee land. Mom was a sweet woman. And most of the time, she wasn't all that different from the other Moms in the neighborhood.
But other times, not so much.
I have one particular memory of mom where her southern came out in spades. It was wintertime. And she woke up to find the squirrels feasting on the bird seed she'd put out in the feeder. Coming from the South, a squirrel was considered a varmint as far as she was concerned. She was not interested in feeding the squirrels.
So she put on her mink coat over her pajamas. (Picture a beautiful champagne-colored 1960s style mink that would be so not PC in this day and age.) And she stepped into her rubber galoshes (there was snow on the ground). And she grabbed my older brother's BB gun. She stepped out onto the side patio and began simultaneously taking pot shots at the squirrel while cussing up a blue streak. I was impressed. I had no idea that Mom knew how to work an air rifle. (Or to curse like that, either.)
She didn't hit any squirrels, which I think annoyed her. This probably explained why she offered my brothers money for every squirrel they killed. Although the boys were not real good shots either. In the end, Mom gave up trying to feed the birds.
This memory came back to me just the other day. The Georgia Boy and I were sitting on the back deck, having some adult beverages and enjoying our bird feeders (which are squirrel proof, thank you very much), when what should come into our yard but two young bucks.
Now maybe where you live seeing deer is a regular sort of thing. For me, it's not. I live just a few miles south of the nation's capitol. A major north-south rail line runs near my house, as does I-95 and the Capitol Beltway. The presence of these deer, sort of explained two things: 1) the coyote that we've seen recently, and 2) the mystery of the disappearing portulaca in my front yard.
Up until I saw these critters, I was pretty sure I had a crazy neighbor who was cutting down my portulaca. It looked like it was getting regularly mowed with a weed-whacker. But I immediately realized that my plants had fallen victim to hungry deer. I was quite annoyed.
I expressed this annoyance to the Georgia Boy, who took matters into his own hands, so to speak. He put down his beer, picked up a rock, and threw it at the deer.
They were as unimpressed by his rock throwing as the squirrels were of my mother's aim with the BB gun. Those deer were so tame he had to get right up on them to scare them away.
The very next day, he told me that he was borrowing a friend's pellet gun. Then he muttered something about maybe he should just go out and buy himself one for deer emergencies.
Yep. I always said that my mother and my husband were kindred spirits. The Georgia Boy proved it this week.
So do you have varmint troubles?  And since I'm not a gun person, myself, I'm interested in any ideas anyone has about how to keep the deer out of my portulaca.
It's Read a Romance Month. . . Let's Celebrate
Posted on 08/1/14
Read-A-Romance Month begins today, August 1.  I think August is the perfect month for a celebration like this.  I always take a few weeks of vacation in August, and my idea of the perfect vacation is sitting in a hammock with a good romance and a pitcher of lemonade or sweet tea nearby.
In fact, as I look back on my summer vacations, many of them spent visiting kin who lived in the little town of Denmark, South Carolina, I have to say that I spent a lot of hours in the hammock.  I also employed rocking chairs and lawn chairs.  But there was one constant – I always had a book in my hand.
Now, I admit that when I was younger – about ten – I wasn't reading romance.  I was trying to keep up with my older brothers who were plowing their way through Edgar Rice Burrough's series of Martian stories, featuring the daring hero John Carter and his lady Deja Thoris.  I truly believe that the boys enjoyed all the bloody battles that took place up on Barsoom, but I was mostly interested in the love affair between between John and Deja.
My Aunt Annie had some pretty strong views about a girl of 10 reading paperback books with lurid covers like this one.  She didn't think they were appropriate for my age or gender.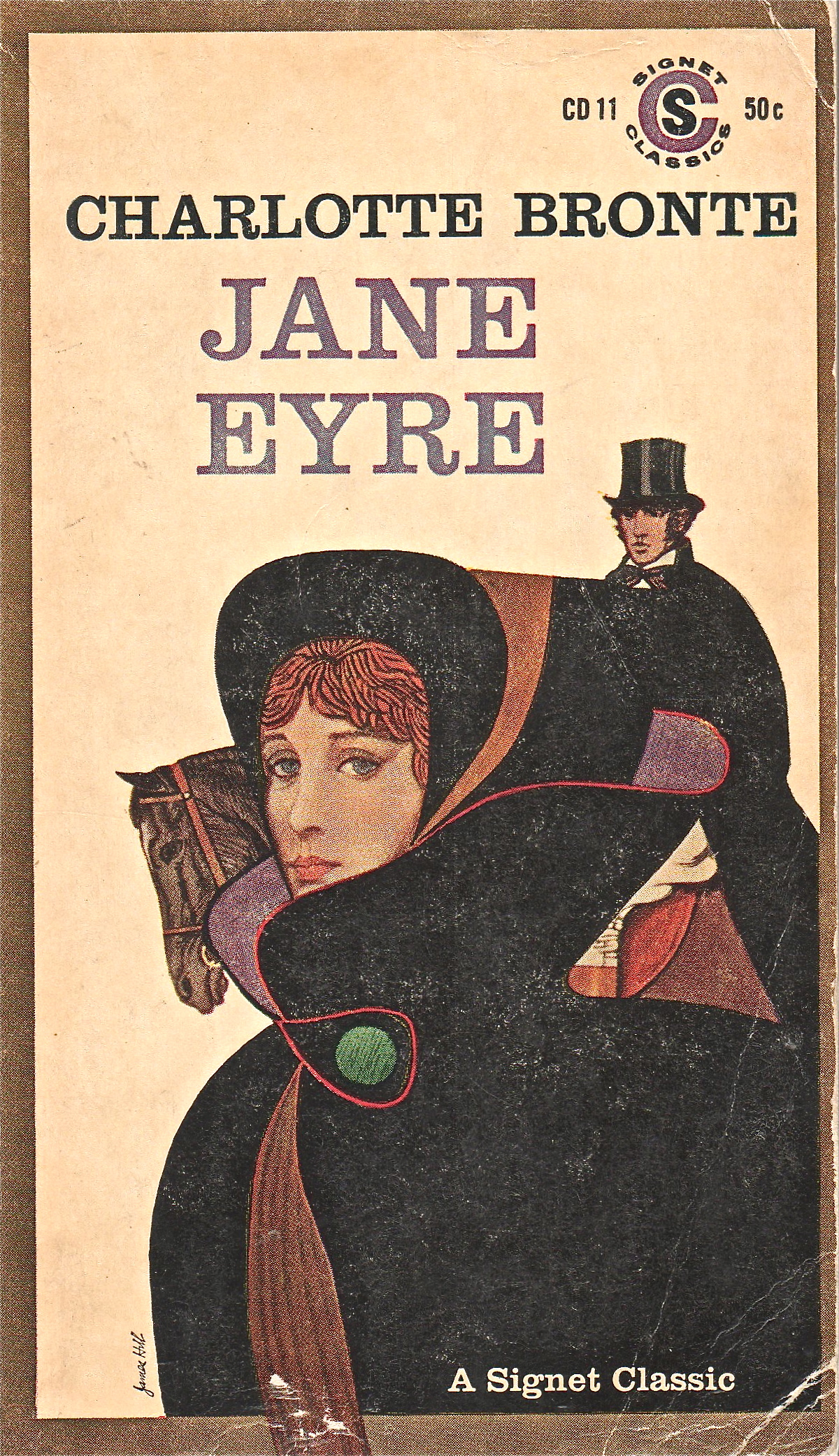 So one summer (I was 12), she handed me a copy of Jane Eyre.  Ha!  What irony.  She may have thought she was handing me a classic, but, let's face it, Jane Eyre is basically a Gothic romance.  And I fell in love with the overbearing, misguided, and utterly tortured Mr. Rochester.  And to this day I love a tortured hero.  This book changed my life!
So I am forever in debt to my Aunt Annie for recommending a romance to me when I was 12.  And isn't that really how many of us get started?  Someone recommends a book and you discover a life-long passion for reading.
I'm going to make a few book recommendations right now, in celebration of Read-A-Romance Month.  All but one of these are relatively new authors, independently published or published by small press.  I love them all.
Bev Petterson writes romantic suspense and mystery set in the world of horses and horse trainers.  Honestly, every time I pick up one of Bev's books I get lost in her world.  I recommend starting with Jockeys and Jewels.
Elizabeth Langston writes YA romance.  Her Whisper Falls series combines time travel and an 18th century American setting.  I couldn't put these books down, and I don't usually read YA.  If you love a good time travel story, this one is worth the read.
LaVyrle Spencer.  Unlike my previous two recommendations, LaVyrle Spencer is not a new or independently published author.  She was one of the leading lights of romance in the 1980s and 1990s who helped the genrego mainstream.  She's a member of RWA's Hall of Fame, but, because she's retired now, many younger writers and readers have not read her books.  Her titles are being reissued in e-book form, so it's a great opportunity for readers to rediscover an amazingly talented author.  My personal favorite of her books is The Gamble, a historical romance set in America just after the Civil War.
Read-A-Romance Questions
The organizers of the 2014 Read-A-Romance Month have presented romance authors a series of questions this year and they are asking each of us to provide answers.  As you hop around various webpages discovering new authors, these questions should be fun to read.
Q: Describe the most daring, adventurous, or inspiring thing you ever did.
A: I'm not a very daring or adventurous soul.  This is why my idea of fun is sitting in a hammock reading a book.  I get my adventure vicariously.  However, the Georgia Good Ol' Boy (AKA my husband), took up sailing late in life and roped me into becoming his crew in a two-man racing dinghy.  We raced that boat for several years.  And, yes, we did capsize it as you can see.
Q: Tell us about your journey to becoming a writer.
A: I always loved words.  Even before I could read, I remember pestering my momma to teach me how to read for myself.  And then when I was in second grade, I had to write my first paper about the pilgrims.  I think the teacher wanted a couple of sentences.  I wrote several pages, with a whole story that involved toil and trouble as the pilgrims sailed through rough seas heading for the New World.  When I was finished telling my story, I remember turning to my momma and saying, "When I grow up I want to be a writer."
Q:  Tell us about A Book that Changed Your Life.
A:  Well I sort of already did in the blog post above.  Jane Eyre definitely made an impression.
* * *
So, who would you recommend for Read a Romance Month?  One lucky commenter will win a copy of Inn at Last Chance.  Winners will be announced on September 1.
Posted on 12/2/13
Congratulations to Lisa Hutson, and Toni from Colorado, the winners of the 12 Days of Christmas Blog tour giveaway.  Each of you will soon be getting a rare printed version of A Christmas to Remember.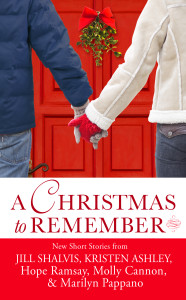 Hatbox Foundation Knit Along Update
Posted on 11/26/13
All of your lovely hats are starting to show up in my mailbox.  Every time one arrives it's like Christmas.  I can't wait to open up the package and see what's there.  Here's what came just a few days ago from my wonderful agent, Elaine English.  I had no idea that she could knit.  And look at all the hats she sent.  I was so surprised and pleased.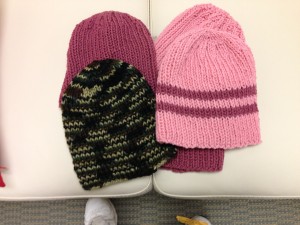 We're getting near the end of the month, so I thought I'd give you an update on my knitting.  I made a decision at the beginning of the month that I wasn't going to go for quantity this time.  I had a lot of left over fingering yarn in washable merino that I knew would make beautiful Faire Isle style hats.  So I've been busy using up all the little bits and pieces of yarn.  Here is my gallery of colorful hats.  I'm pleased to tell you that I no longer have enough of this type of yarn to make a final hat.  So over the holiday weekend I'll be knitting with some left over chunky yarn.  I'll probably be able to knit several hats using the big yarn.  The Fair Isle hats are knitted on tiny needles and it takes about a week to knit a hat at my knitting pace.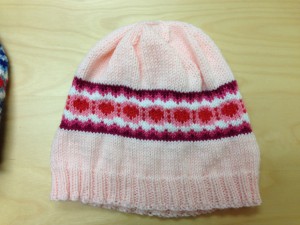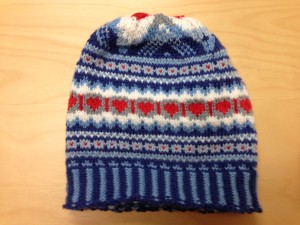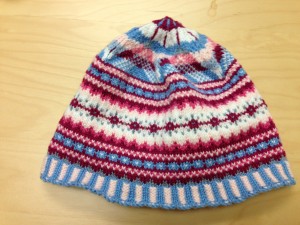 I'm so pleased with this final hat that I'm probably going to get my act together and publish the pattern on ravelry.com.  That will be a first for me.  I've only just started making up my own patterns for things.  So having this hat turn out so nicely was a real ego boost.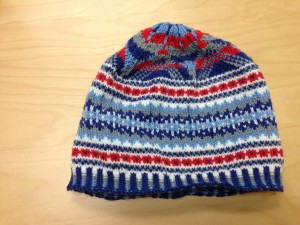 Just to remind everyone about where to send your hats.  I'll be accepting hats up until December 6.  On that day I'll be pulling together a shipment to send to the hatbox foundation.  So please try to make sure your hats get to me by that date.  Send your finished hats to:
Hope Ramsay
c/o Alliance Management Group
1901 Pennsylvania Ave., NW
Suite 804
Washington, DC 20006
Have a happy Thanksgiving everyone.  I'm sure you'll be knitting away during the hours and hours of football that your significant other will be watching in the next four or five days. 

The Christmas to Remember Blog Tour
Posted on 11/25/13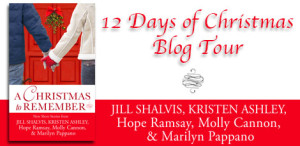 You'll find the dates and places for the Christmas to Remember blog tour listed below.  And don't forget, I'm giving away two printed copies of the anthology on December 2, 2013.  Just click here to enter the contest.
It's Release Day for Last Chance Knit & Stitch
Posted on 11/19/13
I'm celebrating the release date of Last Chance Knit & Stitch with a lot of fun stuff.  First all let me announce the winners of the Release Day Giveaway.  Congratulations to:
Diane McVetty
Jennifer Essad
Carlol Boyle
Teresa Henson
Natalie Kozaczka
If you didn't win a copy of the book, you still have lots of chances left.   Join me today from 10:00 am – 5:00 pm Eastern Tim at the Facebook Launch Party for Last Chance Knit & Stitch. I'll be giving away free copies of the book, as well as Barnes & Noble gift cards.  There will be trivia and book sightings and lots of fun.  So come visit.
You can also win a free copy by visiting Blame it on the Muse, today, November 19, 2013.  And the Ruby Slippered Sisterhood on November 20.
I'll be posting more information about the blog tour shortly.
Posted on 11/18/13
I'm still knitting Faire Isle this week, using Baby Ull fingering yarn for my hat creations.  I've been using the wonderful book 200 Faire Isle Motifs to design the the color patterns.  I just love this book, which my husband gave me for Christmas a couple of years ago, because it gives you the pattens based on how many stitches and rows are repeated.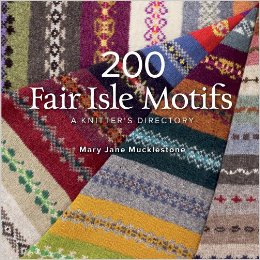 The book makes the math of figuring out a pattern across a set number of stitches that much easier.  The pattern block for the hat below is based on multiples of 4.  The small designs elements have just a four stitch repeat in them.  The medium sized snow flake has an 8 stitch repeat pattern.  And the crown starts out with 32 stitches in it.
This week's creation also has a wide band at the bottom, so it fits more like a floppy hat than a stocking cap, which is kind of cool, but an unintentional design element. I didn't use small enough needles for the band at the bottom.  So I'm refining the hat pattern, and you'll see the result in next week's blog.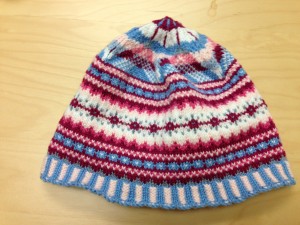 In the meantime I'm running out of baby Ull colors, and I'm having to stop myself from running out to the store to buy more.  The object of this exercise was to use up the left-overs.  But I'm getting so many compliments on the hats from family members that I'm starting to think I need to make hats for everyone as Christmas presents, in addition to sending the ones made in November that I'm sending off to the Hat Box Foundation.  So far I've been good about staying away from the yarn shop.  But I have this feeling my left-over Baby Ull is going to run out before I get to the end of November.
Just a remind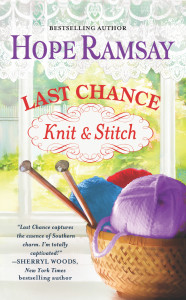 er:  Here are the details of the knit-along.  I'm collecting hats for the Hat Box Foundation, which donates hand-knit and hand-crocheted hats to cancer patients undergoing chemotherapy.  If you are knitting hats this month for this charity, please take a moment to make a post below about your progress and projects. You can even post pictures of projects in progress.
Also, this is the big release week for Last Chance Knit & Stitch, a novel that prominently features a yarn shop in the story, along with some rather quirky charity knitters known as the Purly Girls.  The Purly Girls in the book end up knitting hats for cancer patients, too.  So if you love romance and knitting, you might want to pick up a copy this week.
Posted on 11/11/13
I'm 11 days into my Hatbox Foundation knit along, and I've been shamelessly indulging my addiction to Faire Isle stranded color work.  I have a huge batch of left over bits and pieces of baby yarn — most of it Baby Ull washable merino — and I've been using it up by knitting hats inspired by Fair Isle knitting.
I'm still tinkering with my hat design.  I've knitted a couple that just had a band of color work hearts like this one: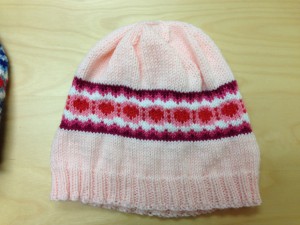 And then I got very ambitious and decided to design a child's had that had the stranded work from bottom to top.  I think this one came out very nice, but it's a bit smaller than the parameters that the Hatbox Foundation has listed for the circumference of a child's hat, although it would fit a toddler.  So the next one is going to be a little bit bigger, and I'm going to tinker with the design for the crown.  So stay tuned, because it will take about a week to knit the hat.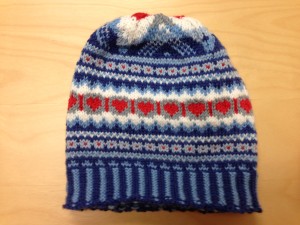 The hat above was knitted on #3 needles out of Baby Ull scraps.  What I love about the Baby Ull is that, unlike traditional Shetland wool that you'd use in Fair Isle knitting, the Baby Ull colors are not heather.  They are bright and vibrant and that creates a very colorful and fun hat.
Once I get a pattern that I'm happy with, I may post it here and on ravelry.com.  In the meantime I have lots of Baby Ull leftovers — enough to carry me through to the end of the knit-along, and probably into December.  Looks like people may be getting Fair Isle hats as Christmas presents this year.
If you want to learn more about how to do two color knitting, here's a great tutorial on the method I use.  One point, though, when you're knitting a hat in the round, you don't ever have to do the stranded color work on the wrong (purl) side, so it's super easy because it's all done with knit stitches.  The trick to doing two color stranded work, is to learn how to knit using both the continental and the English style of knitting.  Although the hats are made from many colors, each row of knitting uses only two.  You just swap out the colors from row to row.  The down side, is that when you're finished you have a lot of yarn ends to weave in, which is a pain.  But the results are always so spectacular.
If you would like to contribute a hat to the Hatbox Foundation, please visit this blog post with all the details on the November Charity knit along.
Posted on 11/4/13
We're four days in to the chemo cap knit along, and I've heard from a number of folks who describe themselves as novice knitters who have only ever knitted a scarf of a blanket — something that's flat and has no shaping to it.
Obviously a hat is more difficult, but it's not that much more difficult.  When I was learning hot to knit, making a hat was my first project with any shaping in it.  And since it's a small project, you don't need a lot of patience to knit a simple hat.   So, on today's blog, I've got a simple hat pattern and bunch of tutorials.  If you're new to knitting, you should be able to follow these instructions and knit a hat that meets the Hatbox Foundation's specifications for a chemo cap.  Here's a picture of the hat in question, modeled by my lovely assistant.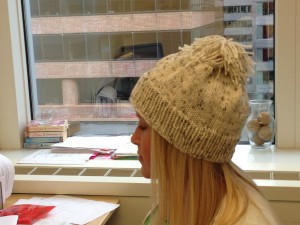 What you'll need before you start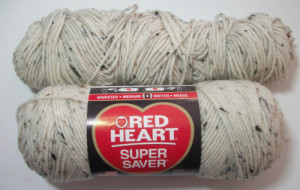 1) skein of worsted weight yarn.  I used Red Heart Aran Fleck Yarn for this project.
2) A 16 inch size US size 7 circular needle.
3) A set of US size 7 double-pointed needles.
Check your gauge.
Gauge is the term that used for determining how many stitches per inch.  The gauge is important, because we're trying to make a hat that's 22 inches in circumference, which is the standard that the Hatbox Foundation has recommended for adult hats.  The gauge on this project is 4 stitches/inch.  If your gauge is smaller than this, the hat will be less than 22 inches.  If your gauge is larger than this, the hat will be larger.  To determine your gauge, cast on 16 stitches and work them back and forth using size seven needles until you have about two inches.  Measure the swatch, horizontally.  If you a swatch that measures 4 inches, you're good to go.  But if it's larger or smaller than that, you'll need to try smaller or larger needles until you can get the gauge as close to 4 stitches/inch as possible.
The new techniques you'll need to learn
If all you've ever knitted is something flat, like a scarf,  on two straight needles, you're going to have to learn two new knitting techniques: knitting in the round, and  shaping a garment by decreasing the number of stitches using the technique of knitting two stitches together.  Neither one of these techniques is hard.
Casting on and Joining a Round
To start this project, you'll need to cast on 90 stitches onto the 16″ Size 7 Circular needle (or any sized needed necessary to obtain the correct gauge) and join the round.  Place a marker where you joined the round.  Below is a detailed video that shows you how to cast on and join a round.  If you've never knitted on a circular needle, watch this video before you start.
Start knitting

Once you've cast on 90 stitches, placed a marker and joined your round (being careful not to twist your work), you will need to work in a rib pattern of knit 1, purl 1 for 2 inches.
Once you've got two inches of ribbing, switch to stockinette stitch, which is really simple when you're knitting in the round, because all you have to do is knit, there is no turning the work.  You just knit round and round and it makes stocking stitch.  It's really, really easy!  Pretty soon you'll have a tube of knitting that becomes the body of your hat.
Shaping the Crown
Once your hat measures 6.5 inches, it's time to shape the crown.  Shaping the crown requires you to decrease the number of stitches, thereby gradually tapering the top of the hat.  To shape the crown you have to learn how knit two stitches together.  So before I give you the instructions for shaping the crown, watch this video.
To start shaping your crown, knit to the marker that identifies the beginning of a rounds, then knit a round following these instructions:
Knit 13 stitches then Knit two stitched together (k2tog).  Repeat this pattern 5 more times.  Your last k2tog should be right before you reach your round marker.  This round will reduce the number of stitches by 6.  If you were looking at a standard knitting pattern, the instruction would look something like this:
*K13, K2tog*, repeat from * to * (84 stitches left)
On the next round, knit as follows:
*K12, K2tog*, repeat from * to * (78 stitches left)
The next row follows this pattern:
*K11, K2tog*, repeat from * to * (72 stitches left)
To finish the crown here are the remainder of the instructions:
*K10, K2tog*, repeat from * to * (66 stitches left)
*K9, K2tog*, repeat from * to * (60 stitches left)
*K8, K2tog*, repeat from * to * (54 stitches left)
*K7, K2tog*, repeat from * to * (48 stitches left)
*K6, K2tog*, repeat from * to * (42 stitches left)
*K5, K2tog*, repeat from * to * (36 stitches left)
*K4, K2tog*, repeat from * to * (30 stitches left)
*K3, K2tog*, repeat from * to * (24 stitches left)
*K3, K2tog*, repeat from * to * (18 stitches left)
*K1, K2tog*, repeat from * to * (12 stitches left)
*K2tog*, repeat from * to * (6 stitches left)
At some point as you are decreasing stitches, you're going to face a big problem.  The circular needle is going to be too big for the small number of stitches that you have left.  At this point, you'll need to transfer your knitting to double pointed needles (DPNs).  Here is a tutorial about knitting with double pointed needles.  This tutorial shows you how to cast on a project with these needles, but in the case of the hat, all you need to do is to knit your rounds onto a set of DPNs.  You'll probably only need to use the DPNs for five or six of the final rows.
Finishing
So now you only have 6 stitches left.  Cut your working yarn so that you have about six inches left, then thread it onto a tapestry needle.  Using the needle, run the end of the yarn through each of the 6 stitches remaining, taking them off the needles.  Pull the stitches closed, like the top of a purse.  Voila!  You have a hat.   Finish the project by weaving in the ends of your yarn.
I embellished my hat with a floppy pom-pom. But you could leave it plain for a man's hat, or you could put a really plush pom-pom on the top.  Here is a tutorial on making plush pom-poms.  If you want something looser like I used, you just use less yarn.
I hope y'all have fun making hats.  And if you have any question, post them below and I'll try my best to answer them.  Unlike the heroine in my upcoming story, I'm not a yarn whisperer.  But I do have some experience making hats.  The hat in this project, only took me about five hours to make.  So you should easily be able to make one of these hats during the month of November.  And someone who is undergoing Chemotherapy would be so grateful to get a hat made by your loving hands.