A Christmas to Remember on Sale for 99 cents
December 4, 2018
Get the e-book version of A Christmas to Remember for just 99 cents.  Sale ends on December 30, 2018.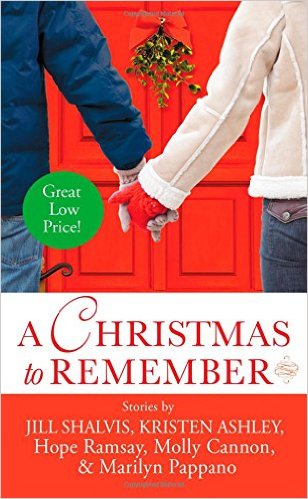 Jill Shalvis, Dream a Little Dream: Melissa has kept every man at a safe distance-especially firefighter Ian, a sexy friend with sexy benefits. But Ian secretly longs for more. Luckily, 'tis the season for giving love a chance . . .
Kristen Ashley, Every Year: Holidays don't come easy for Shy and his brother, Landon. But with the magic of Christmas, along with a little help from Tabby and her family, the Cage brothers are about to get the gift of a lifetime . . .
Hope Ramsay, Silent Night: Down on her luck and evicted from her apartment, single mother Maryanne hopes to start over in Last Chance. When the snow begins to fall, it looks like her baby might literally spend Christmas Eve in a manger. And Maryanne might celebrate the holiday with a handsome stranger.
Molly Cannon, Have Yourself a Messy Little Christmas: Lincoln is a bachelor who's set in his ways-until a professional organizer dressed up as Mrs. Claus changes his life, one tip at a time. . .
Marilyn Pappano, A Family for Christmas: War widow Ilena doesn't mind spending Christmas alone. But when a new doctor blows into town with the winter wind, will she get her secret Christmas wish?
Nook:  https://www.barnesandnoble.com/w/a-christmas-to-remember-jill-shalvis/1119383598?ean=9781455547760#/
Kindle:  https://www.amazon.com/Christmas-Remember-Jill-Shalvis/dp/1455529931/ref=tmm_mmp_swatch_0?_encoding=UTF8&qid=1396465789&sr=1-1
March 22, 2017
As the Chapel of Love series expands, readers are being introduced to the many members of the Lyndon Family of Shenandoah Falls Virginia.  If you're confused about all those handsome guys named Lyndon, here's a family tree so you can keep them all straight.  The document in in PDF format.
July 8, 2016
Many thanks to all the readers who entered my beach read giveaway.  The lucky winner of the six books is Joann Hunter.
Stay tuned for more giveaways!  And remember, if you want notices about my giveaways, fun events, or news about the books, be sure to join my mailing list.